KPI Certification expands upon our unique approach to polarities that explores identity transformation, the Third Way as a mindset and heartset, and the role of Vulnerability in navigating polarities. You will learn how to interpret and use the KPI in your coaching and consulting, deepen your use of polarities as a lens for vertical development, and experience tools and exercises that will support your client's transformational journey. And because the self always comes into play when working with others, you will get the benefits of exploring your relationship to some key polarities, increasing your own capacity to operate from both/and and your understanding of what that means for your clients.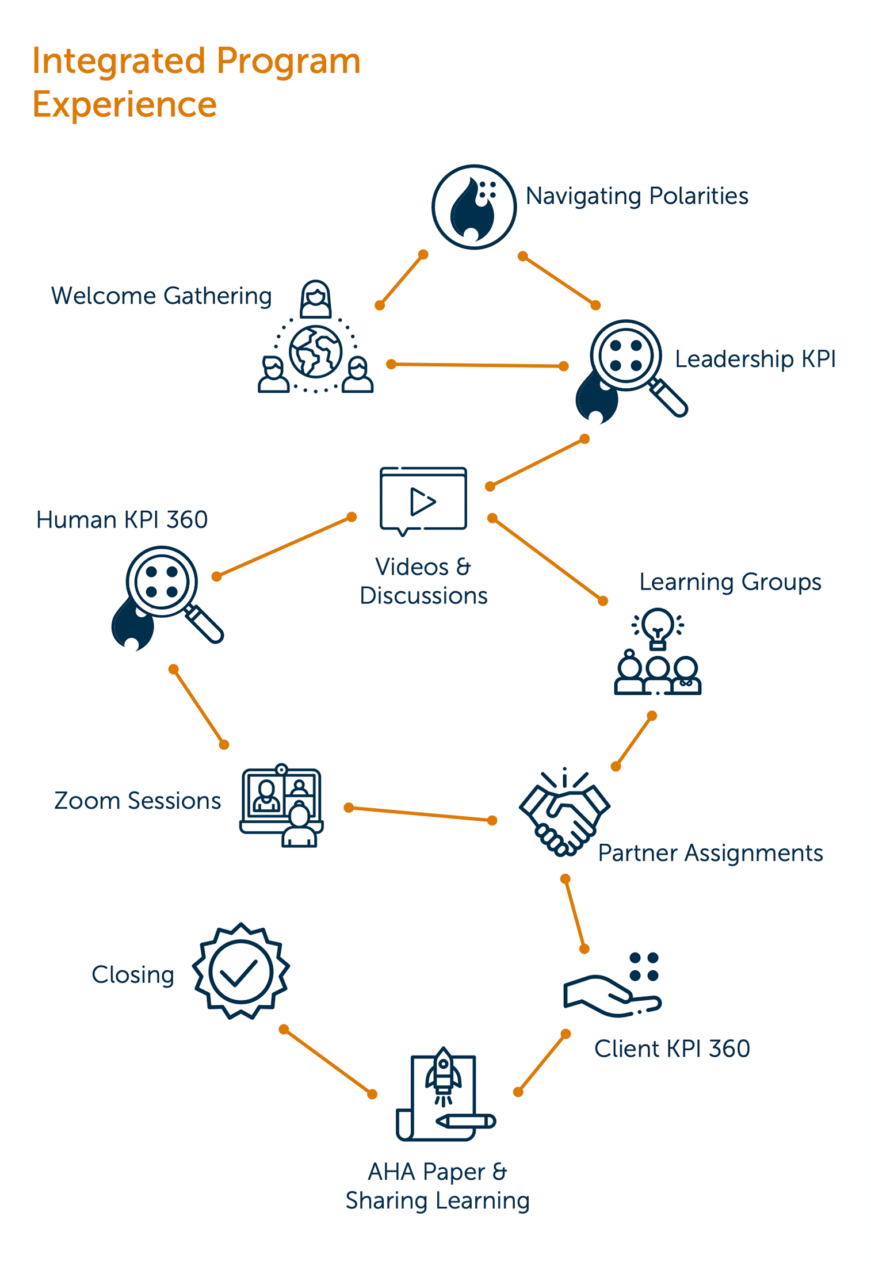 This five-month, cohort-based, online program brings together a global community of coaches, consultants, and talent development professionals for a transformational learning experience. You will have over 20 hours of hands-on application during interactive large group sessions as well as intimate learning pod explorations.
Our customized learning management system allows you to engage in discussion in between sessions as well as on demand access to course videos, materials, tools, and resources.
Program Objectives
Builds your confidence and ability to use the Polarity Navigator™, as well as other tools and practices, to help others effective navigate polarities
Licenses you to administer the:

Human KPI Self-Assessment™

Leadership KPI Self-Assessment™

Deepens your awareness and understanding of your own polarity preferences to more effectively coach, and consult to, others, and
Connects you with a learning community serious about using polarities as one way to change the world.

Program Highlights
Over a five-month period, you will:
Participate in three 2-hour self-paced video sessions with a partner
Engage in six 2.5-hour interactive cohort sessions
Take part in in five 90-minute learning explorations with your Learning Pod 
Take the Human KPI 360™ Assessment
Take the Leadership KPI™ Self-Assessment
Complete learning assignments before each session
Conduct a KPI 360 Assessment™ with one of your clients
"As a coach, I learned how to help individuals build awareness and make sense of polarities, and most importantly apply what they learned to their leadership and lives in a meaningful way. Given there are so many polarities at play in our lives – as individuals and leaders, having a tool like the KPI is so powerful because it helps a coach and their clients easily identify polarities where there may be suffering and focus on the the mindsets and behaviors that might be contributing to that suffering. It provides a way in for the coach and client."

– Dionne Galloway, KPI Certification participant